Gettle Pool Service

Enhancing Your Pool Experience with Stunning Pool Decks and Pavers
If you want to enjoy a good time around the pool, then you must ensure the pavers are in the best condition. Broken pavers are not only dangerous but they also diminish the beauty of the pool area. At Gettle Pools, we offer the best pool deck paver services. We have the best paver installers in the area and our products come with industry leading warranty. If you are worried about the condition of your swimming pool deck pavers, give us a call today. We have the right equipment to test and recommend and suggest a way forward. Our technicians are well versed in different types of pavers in the market and we can suggest the best.
We have worked with travertine, flagstone, slate, bluestone, limestone, sandstone, coral stone among others. If you are remodeling, we supply swimming pool deck pavers from top brands and continue to install them. Our deck pavers are durable and easy to clean. If you have any deck paver concerns, don't look any further. We are your one-stop-shop for all your paving needs around the pool. We are committed to 100% customer satisfaction and this is what has helped us become the go-to swimming pool service in the area.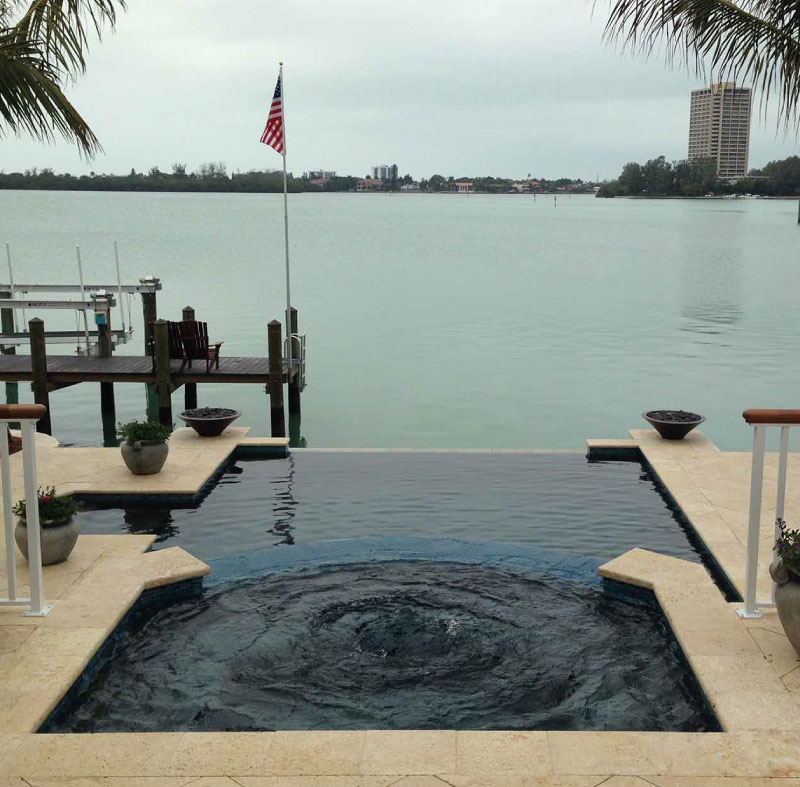 The Importance of a Well-Designed Pool Deck
Your pool deck is not just a functional surface; it's an integral part of your pool area's aesthetics and functionality. A well-designed pool deck serves several purposes:
1. Safety First
Safety around the pool is paramount. The right pool deck material can provide a slip-resistant surface, reducing the risk of accidents and injuries.
2. Aesthetics
A beautiful pool deck enhances the overall visual appeal of your pool area. It's an opportunity to express your style and create a seamless transition between your home and the outdoors.
3. Comfort and Functionality
A comfortable pool deck provides a place to sunbathe, relax, or host gatherings. Consider incorporating features like lounging areas, shaded spots, or even an outdoor kitchen for added functionality.
Exploring Pool Deck Materials
When it comes to pool deck materials, you have several options to choose from, each with its unique characteristics:
1. Concrete Pool Decks
Concrete is a versatile and cost-effective choice for pool decks. It can be customized with various finishes, such as stamped concrete, exposed aggregate, or stained concrete, to achieve the desired look. Concrete pool decks are durable and low-maintenance, making them a popular option for Sarasota homeowners.
2. Travertine Pool Decks
Travertine is a natural stone that exudes timeless elegance. Its cool surface is perfect for hot Sarasota days, making it comfortable to walk on even in the sun. Travertine pool decks are not only functional but also exceptionally beautiful, creating a luxurious atmosphere around your pool.
3. Pavers for Pool Decks
Pavers offer a wide range of design possibilities. They come in various shapes, sizes, and colors, allowing you to create a customized look for your pool area. Paver pool decks are known for their durability, ease of repair, and excellent drainage properties, making them ideal for Sarasota's tropical climate.
Paver Choices for Your Sarasota Pool Deck
Selecting the right pavers for your pool deck is a crucial decision. Here are some popular paver choices for Sarasota pool areas:
1. Brick Pavers
Brick pavers are known for their timeless appeal and classic look. They are durable, resistant to fading, and can withstand the Sarasota sun's intense heat. Brick paver pool decks add a touch of elegance and charm to your outdoor space.
2. Travertine Pavers
Just like travertine for the pool deck surface, travertine pavers offer a natural, high-end look. Their heat-resistant properties and beautiful patterns make them a popular choice among Sarasota homeowners.
3. Concrete Pavers
Concrete pavers are a versatile option, available in various colors and styles. They are cost-effective and can be used to create intricate designs and patterns. Concrete paver pool decks are durable and require minimal maintenance.
Benefits of Paver Pool Decks
Paver pool decks offer several advantages for Sarasota homeowners:
1. Heat Resistance
Sarasota's scorching summers can make pool decks unbearably hot. Paver pool decks, especially those made of travertine or light-colored concrete pavers, stay cooler under the sun, allowing you to comfortably walk on them without burning your feet.
2. Durability
Paver pool decks are built to last. They can withstand heavy foot traffic, pool chemicals, and the elements, ensuring your investment pays off in the long run.
3. Low Maintenance
Pavers are easy to maintain. In case of damage or staining, individual pavers can be replaced without affecting the entire deck's integrity. Routine cleaning and sealing keep your pool deck looking pristine.
4. Customization
With pavers, you have the freedom to create unique designs and patterns to complement your home's architecture and landscaping. Whether you prefer a modern, classic, or Mediterranean style, pavers can bring your vision to life.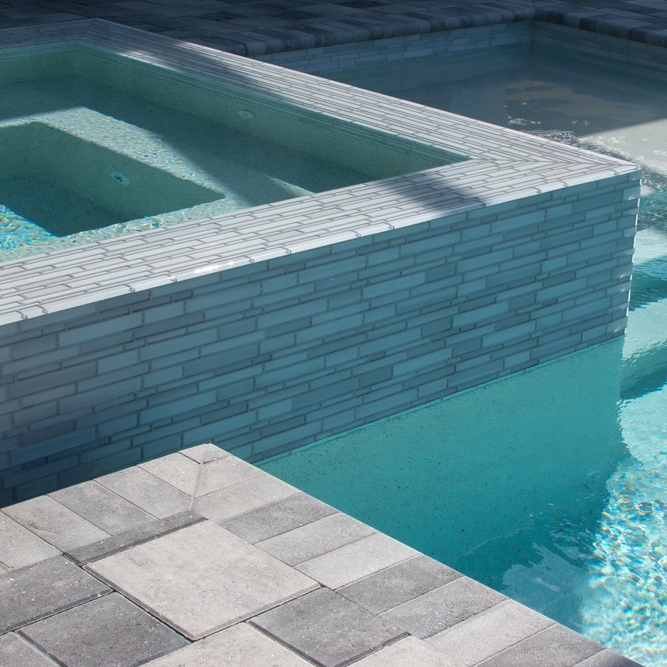 Design Ideas for Your Sarasota Pool Deck
Now that you've chosen pavers for your pool deck, let's explore some design ideas to elevate your outdoor space:
1. Mediterranean Retreat
Incorporate travertine pavers with warm, earthy tones to create a Mediterranean-inspired pool deck. Add ornate outdoor furniture, lush greenery, and a pergola with flowing curtains to complete the look.
2. Tropical Paradise
Enhance Sarasota's tropical vibe with a pool deck featuring vibrant brick pavers. Accessorize with colorful umbrellas, tiki torches, and palm trees to transport yourself to an island paradise.
3. Modern Elegance
Opt for sleek and contemporary concrete pavers in shades of gray or charcoal. Pair them with minimalist outdoor furniture, a geometric pool design, and subtle lighting for a modern and chic pool deck.
Hiring a Professional Pool Deck and Paver Installer in Sarasota
When it comes to pool deck and paver installation in Sarasota, it's essential to work with a professional and experienced contractor. Here are some key considerations:
1. Expertise
Look for a contractor with a proven track record in designing and installing pool decks and pavers. They should have experience with different paver materials and design styles.
2. References
Ask for references or check online reviews to gauge the quality of their work. Satisfied customers are a testament to a contractor's reliability and professionalism.
3. Licensing and Insurance
Ensure that the contractor is licensed and insured. This protects you in case of any accidents or damages during the installation process.
4. Design Consultation
A reputable contractor will offer design consultation services to help you choose the right pavers, colors, and patterns for your pool deck.
5. Detailed Quote
Request a detailed quote that outlines all costs associated with the project. This will help you budget effectively and avoid any surprises later on.
Investing in a well-designed and expertly installed pool deck and pavers can significantly enhance your Sarasota outdoor living experience. Whether you're looking to create a serene retreat, a vibrant paradise, or a modern oasis, the right pool deck can make all the difference. With Sarasota's beautiful weather, you'll find yourself spending more time outdoors, enjoying your pool and its stunning surroundings.
Services
Testimonials

My family has been using Gettle Pools for the last 10 years for pool cleaning and maintenance and we have nothing but admiration for their commitment. They have all pool maintenance solutions and we have always recommended them to new neighbors in the area. Keep it up guys.

After inheriting our house from my old folks, we wanted to add a touch of elegance in line with modern trends. One area that always gave us problems was the pool area and we decided to remodel the entire landscape. Gettle Pools came through and their personnel listened to what we needed and brought the idea to life. Our pool area is now the best part of our property thanks to the company's attention to detail. Good job.
We had been looking for a modern swimming pool over the last one year but all the proposals we were getting were not to our expectations. Luckily, a friend recommended Gettle Pools who took time to understand what we needed and made a virtual design of the same. We immediately loved it and we love our new pool and would recommend the company to all homeowners.